Auctions
Online Auctions
For smaller equipment offerings, nothing beats the convenience and affordability of an online auction. Equipment can be previewed and inspected in-person the day before the sale or a 'virtual preview' is posted in advance of the sale through text descriptions and photographs. Online auctions are managed completely using the computer and do not require a human auctioneer.
To allow bidders across the globe access to the sale, online sales are usually 'open' for bidding for more than 24 hours. Lots close sequentially in number order minutes apart, usually during business hours, and will auto-extend if there are any last-minute bids. Throughout the bidding process Bidders are provided with clear and concise instructions and are even emailed after being out-bid. For key items, hidden reserves allow our clients to solicit bids while still protecting their financial interest. Finally, an autobid feature allows users to enter their maximum price and 'forget it'. The system will place bids automatically, using only as much as is needed to win the item.
Online Auction Payments
After the sale, Online buyers are emailed their invoices and can pay through wire transfer or by a bank-guaranteed check or money order delivered next-day to our main office. Taxes and buyer's premiums (a service fee paid to Aleco Machinery) are adjusted based on the buyer's tax class and payment methodology. Once invoices are paid in full, buyers can remove their equipment themselves or can contract with a packing, rigging, or shipping company.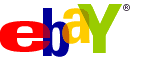 Visit our E-bay Store
Call (414) 264-5848 or e-mail sales@alecomachinery.com with questions.